09/01/20
Maintaining van driver health and wellbeing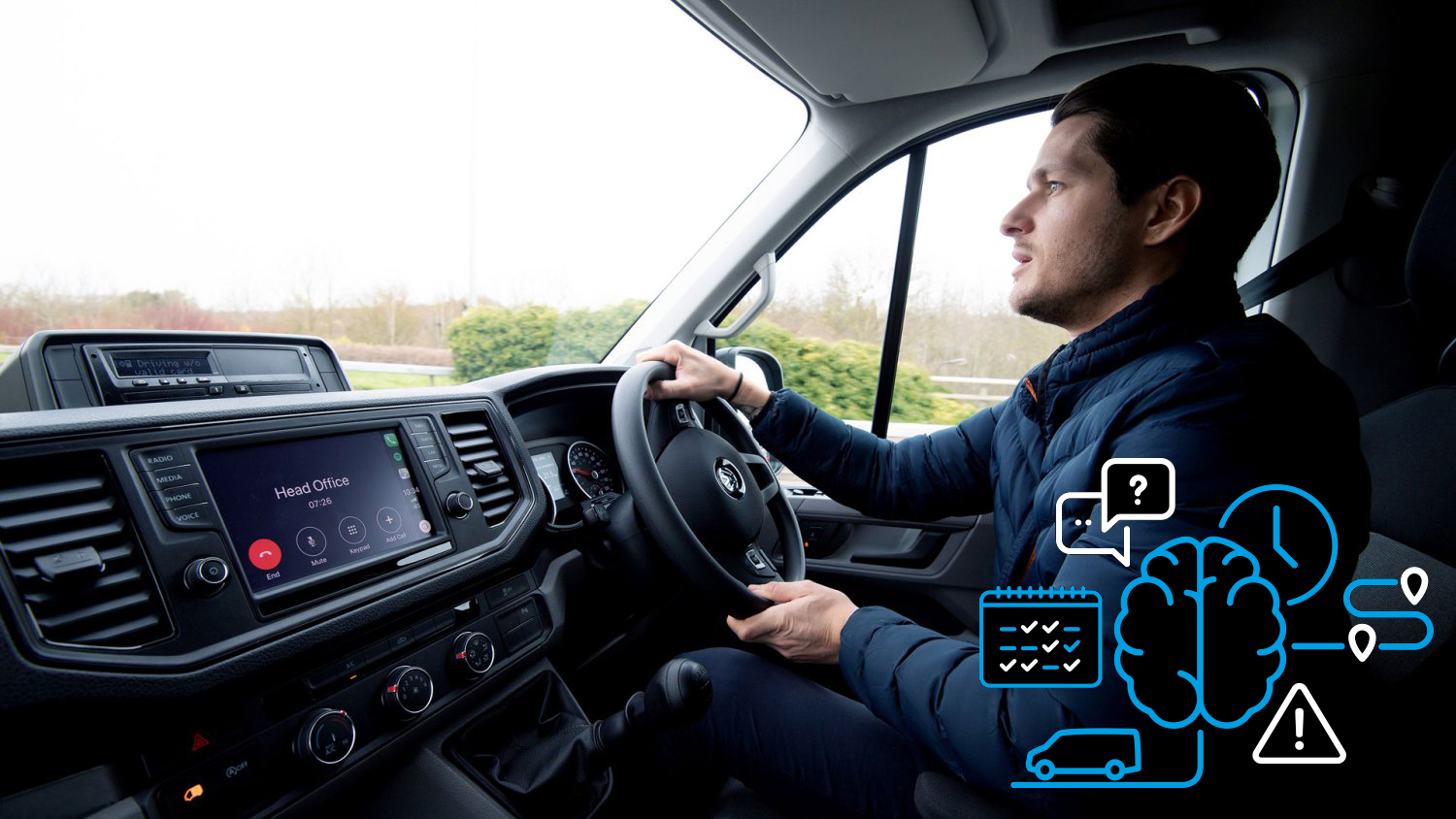 Isolation, lack of exercise, poor diet, stress and being away from home for long periods of time has a known detrimental effect on van drivers according to various studies.
Diet
Research by the British Dietetic Association shows that 56% of van drivers consider themselves overweight, while 96% felt that healthy eating was important. However, only 76% took an actual lunch break and 41% of drivers ate their lunch in the van. Unsurprisingly, only 37% eat at least one portion of fruit or vegetables during the working day.
Despite this, hydration is for many, worse than nutrition. Research by Mercedes-Benz Vans shows that many drivers don't consume enough liquids during the day, partly due to the lack of toilet facilities. In addition, dehydration can also be driven by air conditioning and hot, protective clothing.
Mercedes-Benz Vans UK asked more than 2,000 van drivers and owners to give their feedback on hydration and health. A staggering 70% say that work pressures severely impacted their ability to drink enough water and have a healthy diet – with 27% adding that they rely solely on sugary drinks or caffeine to get them through long days.
Johanna Hignett, member of the British Dietetic Association and spokesperson for the National Hydration Council, said: "Van drivers have a busy job and need to maintain high levels of concentration all day. Being well hydrated is really important, not only for our physical health, but also for mental performance. If we don't consume enough water, we can experience fatigue, or become less alert, so it is really important that van drivers are taking on fluid throughout the day. The European Food Safety Authority recommended fluid intake per day for is 2.5 litres for men and 2 litres for women, around three quarters of which should be coming from drinks.
"Water is the healthiest way to hydrate as it contains no sugar or calories, so van drivers make sure that they always have plenty of water with them in the cab so they can take a drink at regular intervals throughout the day."
Furthermore, simple changes to meals and snacks can make a huge difference. Swapping a bag of crisps for a handful of nuts or a piece of fruit is a great example of this. The "grab'n'go" food available in service stations and garages such as sausage rolls and pasties is quick and convenient when you're on the road but is often packed full of salt and fat, and leave you feeling uncomfortably sluggish. Instead consider health options which can be just as convenient. For instance, many service station supermarkets sell ready-prepared cartons of salad, dips and fruit. A bag of sliced carrots or peppers dipped into hummus is an easy and delicious lunch. A banana will slowly release energy, great for an afternoon boost.
You could also save money and eat well for less by preparing a lunch box. A few simple substitutions in your packed lunch can make a big difference, for instance opting for wholemeal instead of white bread in sandwiches, as it's better for slow-release energy. You can improve your calcium intake by adding Greek yoghurt instead of mayonnaise.
Tiredness
Tiredness is also a concern for van drivers with more than eight in 10 (83%) people in the UK's hard-working van community feel more tired in the autumn and winter compared to summer, with 45% admitting they suffer from low mood more in the darker, colder winter months, according to new research from Mercedes-Benz Vans.
As a result of the darker days, 40% of van drivers said they suffered from fatigue, with nearly half confessing to nearly fallen asleep at the wheel (48%).
According to the Mercedes-Benz Vans Business Barometer, which monitors the opinions on more than 2,000 people in van community, nearly one in three (30%) said they suffer from symptoms akin to Seasonal Affective Disorder (SAD) in winter.
The results showed a significant difference between those who spend more time on the road, with 61% of those who spend more than 50 hours of their working week in their van feeling more fatigued in winter, compared to 41% of those who work between 15 and 20 hours a week in their van.
Mental health
Beside physical problems. there are of course a host of mental health concerns that can affect van drivers. Suicide is the biggest killer of men under 45 in the UK, with one man dying every two hours.
The research, commissioned by Mercedes-Benz Vans UK to mark Mental Health Awareness Week in 2017, found that one in five of the 2,000 van drivers interviewed described their current mental health as poor or very poor.
More than half of said that increased time pressures (52%) and increased workload (50%) are factors affecting their mental health, with one in three believing that job uncertainty is contributing to their poor mental health and 17% of delivery drivers adding that road congestion is impacting on their state of mind.
To help combat this, Van Excellence has partnered with CALM, the Campaign Against Living Miserably. CALM operates a 24/7 helpline and a range of campaigns to promote mental health, particularly in young men. The CALMVan initiative encourages drivers to seek help if they are feeling stressed. The helpline is 0800 58 58 58, open from 5pm to midnight 365 days a year. Alternatively ways to get help via the webchat facility at www.thecalmzone.net/help/get-help/.