Call us on
0203 900 3321
(Lines open 9.00am-6.00pm Mon to Fri
9.00am to 1.00pm Sat)
Your champion for the best prices on new vans!
Volkswagen Crafter Van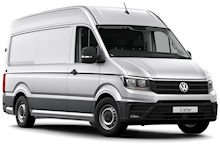 The Volkswagen Crafter is the largest van on offer in the range, fit for any working purpose necessary. With a huge range of options, the Crafter can be tailored to any task required in your workforce. With swathes of space and various height options - not to mention the adaptable chassis cabs - you can look no further for your large multi-purpose van.
Whether you want to buy, lease or contract hire, contact us for a quote.
We aim to offer the cheapest prices on new Volkswagen Crafter vans. Please see some of our best deals below.
GREAT DEALS ON ALL VW's

FANTASTIC CHEAP LEASE PURCHASE DEALS!

CHEAP CONTRACT HIRE & LEASE DEALS!

Great deals available

CHEAP CONTRACT HIRE & LEASE DEALS!

Great deals available